Online dating. You've heard of it. Maybe you've used it, maybe you haven't. You might think it's the greatest thing ever, you might think it's a massive time suck.
Whatever your opinions of online dating are, my single, focused goal with this article is to help you find a highly aligned romantic partner in as short of amount of time as possible.
Who Am I And Why Should You Care?
As of the time of me writing this article, I've been a professional relationship coach full time for the past seven years. More importantly (for the purposes of this article), I've been a user of online dating websites for those same seven years, and have helped many clients find long-term partners and husbands/wives using online dating.
And yet, even though I've had a profile on my website of choice for those seven years, I've only had it appearing as active for less than four months total. Why is that? Because whenever I activate my profile, it gets responses so quickly, and I find a romantic partner that I'm excited about so efficiently, that I inevitably end up shutting down the page (generally) in less than a week or two.
I've met some of the most amazing women of my life through online dating. The stigma of online dating users being the social rejects that they may have been in the earrrrrly, early years of online dating simply doesn't hold weight any longer. I have found attractive, educated, dynamic, amazing people through online dating in major cities in five different countries around the world. I am constantly amazed with the quality of people that I meet through online dating. Again, my hope for you is that I can walk you through this entire process and have the best chance possible to meet your dream partner using online dating as your method.
The Biggest Benefits Of Online Dating
Online dating is essentially partner shopping.
If going to a bar and striking up a conversation with someone is the equivalent of window shopping (the product looks pretty but you don't really know anything about it's specifications) then online dating is like shopping on Amazon (in that Amazon knows your shopping habits, what you generally like, and it can give you a full product breakdown with all of the benefits, features, and bonuses of each product compared to others of it's kind).
The biggest benefits of online dating, as I see them, are:
– The more targeted matchmaking algorithms that help you connect with likeminded/aligned/compatible people
– Access to far more potential romantic interests in a much smaller window of time (efficiency and volume)
– Multiple levels of communication to allow you to ease into conversations with varying degrees of commitment while avoiding embarrassing situations (viewing 50 people in an evening with online dating? Easy. Approaching 50 attractive strangers in a bar/dinner party? Much more challenging for most people.)
– The variety of dating websites that can help you connect with people that might have more niche interests (i.e. Gluten Free Singles, MillionaireMatch, and Triathlete Dating)
– New friends. You won't have chemistry with everyone that you meet through online dating, but it is highly likely that you'll remain close friends with people you meet through certain sites because you'll still have a very high degree of personality/character overlap with them.
– Shopping for romantic partners is fun. Not everyone that you meet/message/interact with online is going to be your next spouse, but there is quite a lot of fun to be had while searching for soul mates online.
While no single method for finding a partner is without it's drawbacks, the percentage of people who meet their partner via online dating is skyrocketing and there's a reason for that. Online dating is fun, efficient, and it's that much easier to meet someone who aligns with your core values if you know what you're looking for.
The 2 Most Important Facts Of Online Dating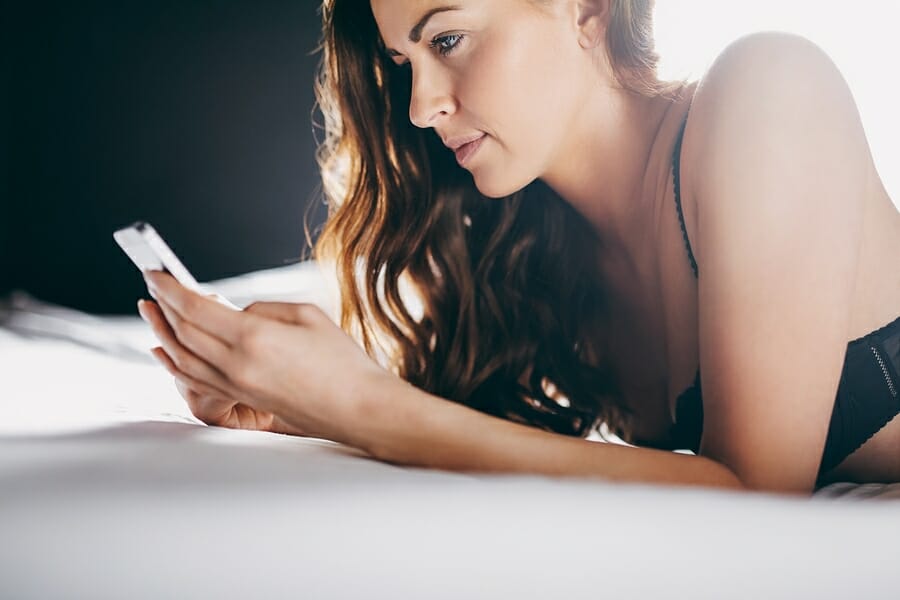 I frequently get clients coming to me asking me to look over their online dating profile (which I am happy to do). But one thing that comes up, time and time again, that I see my clients stressing out about is the level of detail and optimization that they put into the written part of their profiles.
"Does this joke make sense?" "Does it show that I really care about fitness?" "Should I say 'considerate' or 'kind' here? Which is better?"
Let's get point #1 out loud and clear…
It's Not How You Say It But What You're Saying That Matters
Think of it this way…
Imagine you were sleeping and for some reason I had keys to your house (weird… but stay with me) and I barged in to your room at three in the morning. And you could tell by the look on my face that I had BIG news for you. That news was that I had ten million dollars for you (no strings attached, no taxes would come off of it… it was just your money) and I also wanted to gift you your dream house anywhere in the world… right now! I just needed you to get out of bed, walk out into your living room and pick out your dream house in your dream city from a big book of awesome houses that I had.
Now, would it be MORE motivating to you if I said "I need you to come to the living room to pick out your house" versus saying "Please come to the other room with me in order to select your new home"?
Is there any nuanced way that I could state my request to have you NOT want to get out of bed and claim your cash and house? And I don't care how much you love sleep. You can sleep when I teleport you to your new flawless home that has a memory foam, organic bamboo NASA bed (it comes with the house).
The point is… you don't need to worry about being so careful or clever with the words in your profile when the person that those words are selling/talking about is one that is of the utmost importance and value to the right sub-section of people who are interested in what YOU specifically have to offer.
On to point #2…
Here's a bitter pill that some people don't like to swallow… but I believe that it's absolutely essential to discuss before I start going into how to set up a profile, how to go from messaging to first date, etc.
Ready? This fact can not be overlooked or glossed over. We have to face it head on.
Your Profile Is A Microcosm Of Your Life
What does this mean? It means that your online dating profile is a slice of you. It is a representation of you. As far as the users who are viewing you are concerned, in the first moment that they stumble across your profile, it IS you. Your profile is your first impression, and it can either intrigue them and make them want to dig in further, or it can instantly repel them and make them keep scrolling through other romantic options.
What does this mean in even more practical terms? It means that if you hate your life, you don't feel fulfilled, and you aren't proud of yourself and you think that finding a partner will jumpstart the dead battery of your life, then anything that you write in your profile will likely reek of sadness, desperation, and neediness.
You have to enjoy your life and generally like yourself as a person, before expecting to be able to write any kind of a compelling online dating profile.
More on this soon.
Onwards.
The Biggest Rule Of Creating A Winning Online Dating Profile
I'm going to start this section off with a quote, because Honest Abe said it better than I ever could.
"Give me six hours to chop down a tree and I will spend the first four sharpening the axe." – Abraham Lincoln
What a genius.
Instead of hacking away at a tree with a dull blade, Lincoln would ensure that his axe was as sharp as possible so that each and every swing was that much more effective in taking down the tree.
For you, taking down the tree is finding an amazing partner via online dating. The sharpness of your axe is the quality and honesty of your online dating profile.
Much of the strategy that follows is based on this principle.
The most effective strategy I have found (for myself and for my many clients who I've worked with through this process) is to spend 90% of your time making an amazing profile, and then spend a little bit of time messaging a few quality options that pique your interest (or let them come to you).
Does It Matter Which Online Dating Website You Use?
Yes. Here's why.
Depending on what specifically you're looking for in a partner, there is a different strategy for different people as to which dating site they should be using.
As a rule of thumb, for most people, you want to be going to online dating sites with large numbers of users.
Match and eHarmony have tons of users and are geared more towards people who know they're looking for marriage and/or long-term monogamy. OKCupid, LavaLife, and PlentyOfFish also have a lot of users and have somewhat overlapping user bases (in terms of the demographic that they each serve). Other websites also have relatively large user bases (JDate, ChristianMingle, etc.) but they have unique niches attached to them. And if you're looking for certain niche specific dating websites, there are sites with smaller volumes of users but you can be fairly certain that nearly everyone that you meet through that site will have your unique thing in common.
Which begs the question… if you have a unique thing about you/that you look for in a partner, are you better off going to the smaller website with higher density of compatible people or building a profile on the larger site (with significantly more users) and just being up front about your unique preference? Both strategies can work, and it largely depends on how important that thing is for you.
For example, say you're into kink/BDSM/fetish type stuff in your sex life. If it is absolutely mandatory that your partner be into it as well, you're probably better off going straight to FetLife and getting an account (note: even though FetLife is more of a social networking site than a dating site, it is often used by it's members for dating purposes). If it's only kind of a preference that isn't really a huge part of your identity then you're probably better off building a profile on OKCupid/Match/etc. and simply mentioning in your profile that you're into that lifestyle.
There are hundreds (thousands? tens of thousands?) of major online dating websites and you know your unique preferences better than I could hypothetically list out here. So do your research if there's a unique thing that you need to honour in yourself and/or have in your next significant other.
(Cheat sheet: Looking for a husband/wife/spouse sooner than later? Use Match or eHarmony. Are you looking for short term or long term dating and you're between the ages of 21-40? I'd strongly recommend using OKCupid. Do you have a niche interest that you really want to honour? You're on your own there. Whatever your thing is, you'll have to do your own research – as there are too many options to list in this article – but I strongly recommend only signing up for websites where you can see their user count before creating your profile. Ideally at least a million worldwide users. Good luck!).
Alright, you know why online dating is awesome, and you have an idea as to which site you should sign up on. Now it's time to set up your profile! Let's do this.
How To Craft A Winning Online Dating Profile
If you're engaging in online dating to find a partner who is an aligned match for you, then you have to think of yourself as the product and your profile as the sales page.
Your photos, words, and the decisions that you make in crafting your profile are the things that could either lead you to finding your next lover, spouse, or significant other… or going on crappy dates with people you don't match with, and/or remaining single. To say that your profile matters in attracting the RIGHT partner is an understatement. It is absolutely imperative.
No matter what online dating site you're using, here are some important ground rules that will help you craft a better profile and ultimately attract an aligned romantic partner in a more efficient manner.
1. Honesty
Above all else, your profile must be honest.
There's this ass-backwards belief that you have to put your best foot forwards in an online dating profile, to the degree that you litter your online dating profile with little white lies.
No. Just no. Do not engage in this strategy. It is a no-win game.
Saying you're taller than you are gets you nowhere. Saying you love your life more than you do gets you nowhere. Pretending that you surf, hike, and love cats (when those things aren't true) gets you nowhere.
It's better to lean towards brutal, radical honesty than to have your real-life date find out, right off the bat, that you've spun a web of lies to try and attract them into your life.
This point is especially true for the things that you think are your flaws/weaknesses.
Often we think that things about us are flaws because one or more of our past partners shamed us around our greatest strengths and gifts. It might have happened so consistently that we started to believe that it was, indeed, a flaw in us. In reality, nothing could be further from the truth. So feature your quote unquote 'flaws' and there will be a sub-set of the population who is desperately seeking someone with your exact character trait(s).
(Examples: you might see yourself as too restless, someone else sees you as lively and energetic. You might see yourself as too emotional, and someone else would see you as beautifully empathic and appropriately sensitive to life. You might see yourself as too logical and analytical, whereas the person who is searching for you would label you as grounded, conscientious, and brilliant. It's all about perspective.)
2. Know what you're looking for, and be consistent with your desires
Before you set up your profile, make sure you know why you're setting it up. What exactly are you looking to get out of online dating?
Are you looking for hook ups? Are you looking for new friends? Are you looking for a short-term boyfriend/girlfriend? Are you looking for someone to date for a while because you're in a new city? Are you looking for your husband/wife/spouse? There is no right answer, there is only your answer.
You have to figure out what it is that you're looking for in advance of setting up your profile because the consistency and alignment of all of your micro-decisions will affect how responsive your ideal candidates are to your profile.
If you say in the first paragraph that you're looking for someone to marry (which is totally fine, and even advisable) and then you subconsciously drop three to four hints throughout your profile of how commitment terrifies you and you don't really like the gender of the person you're trying to attract, then you'll likely scare off any potential matches that would have been willing to message you.
Figure out what you want from online dating, be consistent and aligned in your desires, and don't be afraid to name your ideal outcome explicitly in your profile.
3. Photos
Your ideal set of photos has to be uniquely calibrated to who you are at your core.
What are your core values? What are the biggest things in your life that really speak to your heart the most? What gives you goosebumps? What makes you tear up with joy? What situations do you find yourself in that make you feel the most alive?
Those are the questions you want to ask yourself, sit until you have the solutions, and then let your photos represent those parts of yourself on your profile.
Again, don't over inflate or lie about what you're showing the online dating world. If you've only ever gone surfing once, it probably isn't best to have one of your photos be you on a surfboard (unless what you're trying to communicate is that you love trying anything once and you are the happiest when you're making a fool of yourself… because then that photo would be an aligned choice for you).
If you use group shots, make sure you say (in text) which one you are. People move quickly in online dating and they don't want to waste their precious time identifying you out of a lineup.
A good rule of thumb is to have 1-3 photos of just you, being your awesome, happy self, 1-3 photos of you doing things that you love, and 1-2 photos of you with friends/family/other people to show that you aren't a total loner (blur out the other people's faces if you can, as it's a considerate thing to do unless you've asked for those people's consent to be in your profile).
4. Show, don't tell
This point is more about the written portion of your profile than it is about your photos.
Instead of stating facts about yourself, let those things shine through by simply being yourself throughout your profile. Use humour, detail, and stories to show your true essence.
Examples:
– It's more effective to BE funny in your profile than it is to say "I'm a funny person who loves to laugh."
– It's more effective to say "If I lost my job tomorrow, my dog would still get the gourmet dog food while I ate Spaghetti-O's for weeks" than to say "I love my dog a lot."
– It's more effective to say "I've lived on all of the continents except one (damn you Antarctica!)" than to say "I love to travel and I'm a very cultured person."
5. Let your passions show through
This ties back to the honesty point in a big way.
So many people feel the need to tone down who they are in their online dating profile.
They tell themselves, "Well, I can't really admit how much I go to the gym/watch TV/focus on my career/love cuddling with reptiles/etc." Yes. Yes, you can. You can 'admit' anything and everything to the greatest extent that it is true in your life.
Will committing to radical honesty in your online dating profile scare away a lot of people? YES! And that's the point. You want to repel 80+% of your potential suitors because you'll save your time, save them time, and you'll attract people who are a high degree of compatibility to you that much faster because you committed to being your fully authentic self in your profile.
Honesty, clarity, and fully owning the full spectrum of yourself will get you so far in this life. Especially when it comes to attracting your dream man/woman whilst online dating. So commit to the process of honesty. Be the fuck out of yourself.
Alright, so you have an online dating profile that kicks ass… now what do you do with it? How do you go about finding and attracting your dream partner?
The Most Effective Online Dating Messaging Strategy
To put it simply, the most effective strategy is QUALITY OVER QUANTITY.
Don't troll people by mass messaging potential matches with a copy and paste "Hey, what's up?" You have standards, so honour them.
Instead of a shotgun, spray and pray approach, you want to employ a sniper's methodology. A violent metaphor, I know, but you get my drift.
If the site you're using uses a match percentage gradient, only message people who have an 85-90+% overlap with you. Ideally, you only want to be messaging (at most) 5-10 people per week. Again, quality over quantity. You only want to be messaging the people that you're deeply excited by and think you would get along well with without having even messaged them yet.
What Should You Say In Your First Message To Them?
So if the copy and paste, applicable to anyone message is the most ineffective strategy, then what's the most effective strategy? You guessed it… it's the approach that is the opposite of generic. Aka the most effective approach is the most uniquely calibrated.
This isn't rocket science. Find a person's profile that you're excited about, read through it with a metaphorical fine toothed comb, craft up a unique message that has a warm greeting, a unique and insightful question that shows that you've actually read their profile and that you already understand them as a person, and maybe a small, non-generic, compliment just to get the good times rolling.
I know, I know… some of you want me to give you some copy and paste-able examples of what the 'ideal first message' looks like. Well, too bad. Anything that I write, in my voice/from my brain, would only serve to limit you in your efforts because it wouldn't come across as calibrated or authentic (since it didn't come from you). Remember, read their profile fully, craft a unique/calibrated message, send it to them, and if they're the person they seem to be and you do have the potential to become future lovers, then they will message you back when they're able to.
How To Go From Messaging To First Date
Alright, so you're messaging back and forth with someone that seems really promising. Congrats! That's a fun stage to be in. But that doesn't mean that it's a stage that you want to stay in. Most people don't go into the online dating realm for new pen pals, so ultimately you'll want to transition offline to real life.
How do you do that? Simple.
1. Message back and forth. Ask a few questions. Build some rapport/comfort/connection/etc.
2. Ask for their phone number. Set up a time to call them so you can hear their voice.
3. Have a phone date. Doing this saves you time and money because you avoid going on in-person dates that have less romantic potential than you anticipated while messaging with them.
4. First date (in person). Meet up offline doing something fun, easy, and casual.
At this stage, if the rapport is there, and your feelings about each other continue to trend in a positive direction, then you have a new partner. Bada-bing.
If you meet up offline and the rapport/chemistry isn't there, then you go back to one of the other promising potential matches that you have in your inbox.
I'm getting up near the 4,000 word mark at this point, so I'm going to end it here. And if you made it this far in the article, congrats! I'm impressed.
By the way, if you feel overwhelmed and you want help setting up an online dating profile that attracts your dream partner, I can help you with that.
Dedicated to your success,
Jordan
Ps. Just because you are able to get into a relationship quickly using online dating doesn't necessarily mean that you should. The right partner is always worth waiting for.
Pps. If you enjoyed this article, you might also love reading:
– 10 Tips For Having Stress Free First Dates
– How To Find And Date An Exceptionally High Quality Partner
– 11 Easy Ways To Actually Love Yourself More