Last week I released the article The Best Sex Toy For Men, Ever. And, understandably, my female followers wanted to see an article written with them in mind.
Now, I've never inhabited a female body in this lifetime, and am ill equipped to say what works best for women. So I enlisted the help of my thousands of female readers by asking them a series of questions.
I started by asking them what their favourite sex toy was. There were a few forerunners (all of which are mentioned near the end of this article), but the name that popped up (by FAR) the most frequently was the Magic Wand. Once the winner (by critical mass/popular vote) was established, I dove into the deeper questions.
The Magic Wand (which was apparently originally intended to be a massage device) is most often used by women as a vibrator to achieve clitoral and/or combination orgasms. It used to be called The Hitachi Magic Wand, but the product was rebranded to just being called the Magic Wand in recent years.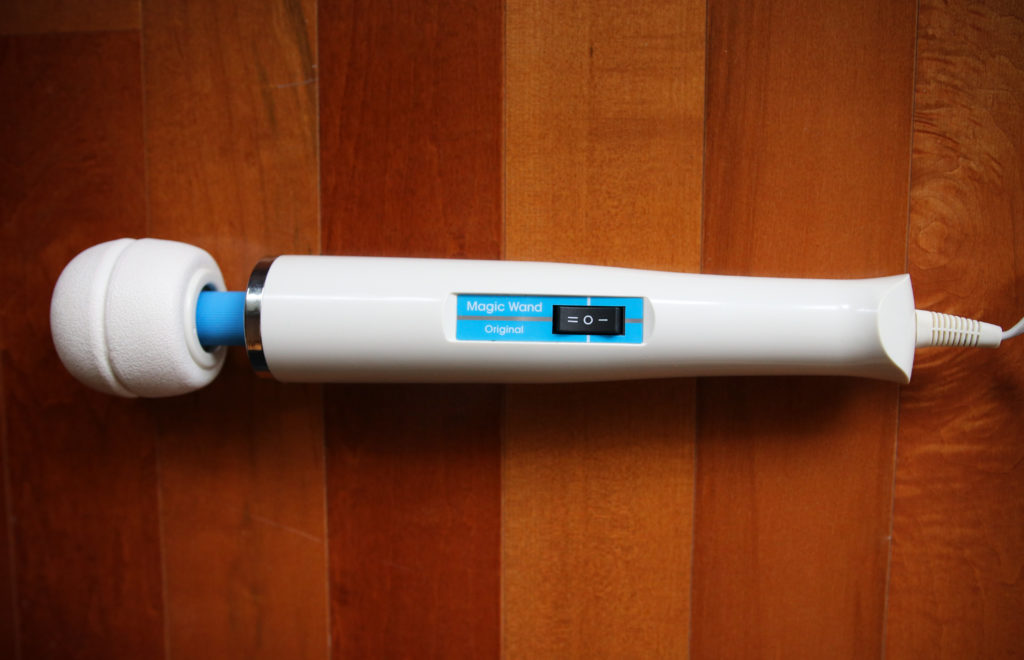 The following women that I quoted range in age from 20-60, and they live all around the world. Some of them asked that I used their real names, and others asked that I used a changed/anonymous name.
Enough with the logistics, let's get into it. If you've ever considered upgrading your sex life with the Rolls Royce of women's sex toys, then this is the article for you.
How Does The Magic Wand Feel?
"It's physically impossible not to cum. It's like being on a roller coaster… when it drops you, your body naturally has to scream. You couldn't sit there in silence even if you wanted to." – Jennifer D.
"Feels intense, for me it's usually the one I go to for a quicker, more immediate orgasm (like trying to get a quickie in while the toddler naps!)." – Allison D.
"The intensity is unlike anything else I've ever experienced. I haven't used a different toy since purchasing. Intense, toe curling orgasms that can be as quick or long as you wish. And no batteries!" – Rachel K.
"The Magic Wand feels VERY intense. What I do is build myself up manually until I am ready for the sensations it produces–I've never just gone to it from the start, that would be too much. I use it directly on my clitoris, starting on the low setting. For me, it begins to produce orgasm almost immediately–however, it's different than using my hand, with a defined peak and decrescendo.
The orgasm is instantaneous… the Magic Wand basically "forces" my body onto a higher plane of pleasure. It takes me much longer to reach my peak, which means that I can orgasm for as long as I can handle it!" – Annika C.
How Do You Use The Magic Wand?
"You plug it in, apply the head of it to your clitoris, and begin seeing stars." – Alisha T.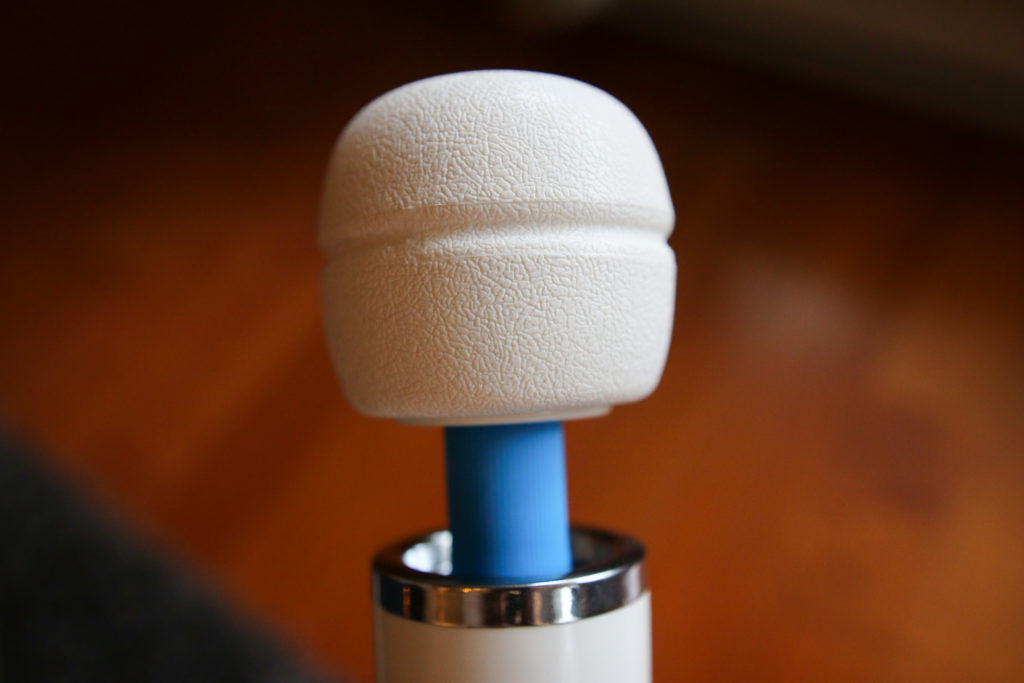 "I use it by myself and with my partner. He actually finds it really sexy." – Kassidy P.
"I like changing up my position when using it. I like using it while I'm on my knees with one hand on my headboard. Or when I'm standing with the Magic Wand laying flat over the bed so I can prop my leg up and maneuver my body in the right position. I love changing up the position because it reiterates how powerful the toy is.
Aside from switching up positions, when close to my orgasm, I change the pressure of the toy. Because it is such a powerful vibration, I try to hold it firmer and longer, even after my orgasm is finished. It almost feels torturous and there is something sexy about that. I also find it prolongs the orgasm and builds me up for the next one. The toy is so strong that the immediate reaction is to move it when your body is peaking. I found a lot of pleasure in seeing how far I can take it, holding it in the same position until I'm squirming around uncontrollably.
Using with a partner is also fun. I love being teased by it – over top of my panties or being tied up so I can't squirm away when the vibrations get so intense. I think it's a great toy to use solo and with someone else." – Rachel K.
Any Specific Things That You Have To Consider While Using It?
"Yes — it is a bit loud so if you have roommates or thin walls, this is something you'll want to consider when purchasing." – Erica K.
"I had an orgasm the very first time I tried to give myself one as a teenager and I've been having them ever since. I never EVER had trouble on that front. So, for me, this is something I use if I have a lot of tumescence built up, haven't been with anyone in awhile, or just need to dull my very high libido for a day or two. I'll use it maybe once a month, and I've gone months without touching it." – Annika C.
"Yes. Sometimes the lowest setting on the Magic Wand is still too intense for me, and I use this dial to bring it down considerably." – Amanda T.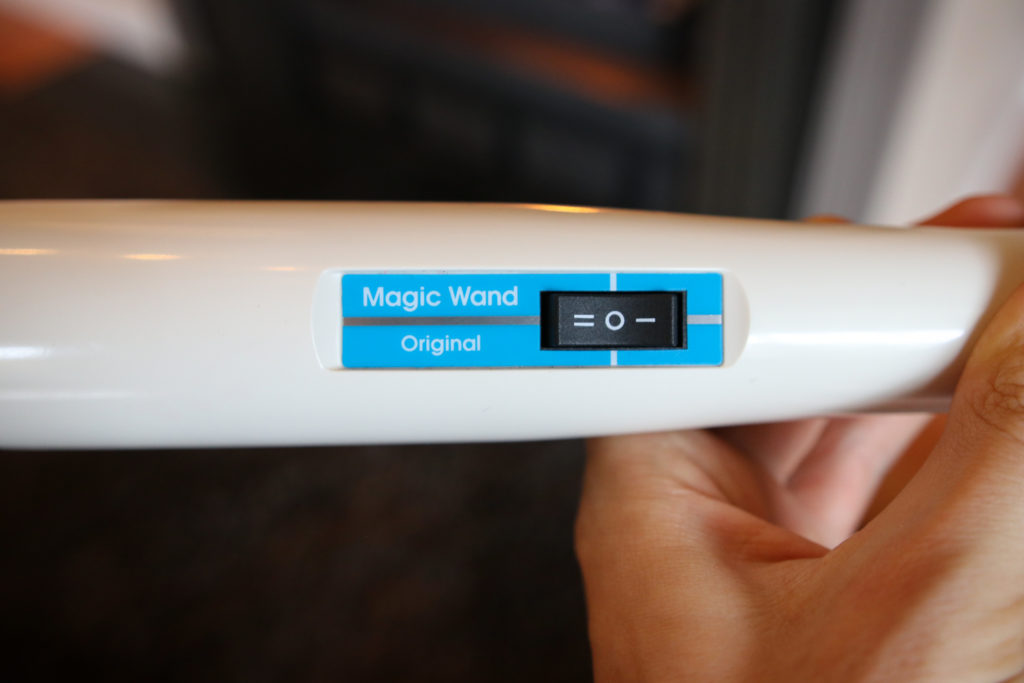 Pros And Cons Of The Magic Wand?
The pros and cons were quite consistent from all of my interviewees across the board. Mainly (pros) that it's powerful, effective, and durable… and (cons) bulky, has a cord, and not very pretty looking.
– Pros Of The Magic Wand
"The Magic Wand is great for high-intensity direct clitoral stimulation." – Erica K.
"It gets the job done, I don't have to charge it or replace batteries, it's super effective!" – Allison D.
"I would say both the pros and cons of this are derived from the fact that it makes you come fast." – Ostara C.
"I bring the Magic Wand to every group sex session my partner and I have because it takes the pressure off the guys for having to make a girl (who's vagina they've never met) cum." – Alexa R.
"The Magic Wand is responsible for the realization that I can squirt, as well! What I've found is that the sensations will build and build, and in order to really reach the peak, I have to ejaculate first. It's truly out of this world!" – Annika C.
"Pros for me are that those times when the little vibrator isn't getting me to an orgasm, the "big guy" usually can. So if I WANT an orgasm and can't seem to get to it (usually masturbating) I can USUALLY get it with the big guy." – Lauren A.
"1) It's super durable, 2) it's super powerful so with a dimmer it gives me maximum flexibility since I do have partners who like more intensity than I do, 3) Because it is a fairly well known product, it's easy to find accessories and attachments that make it more fun, 4) It actually works pretty well as a neck massager." – Joy D.
– Cons Of The Magic Wand
"The downside is how bulky they are. Not easy for travel." – Anne R.
"My biggest thing with it is that it is STRONG. And personally, that's not always a good thing. When I first got it I would use it over a cloth or something so that it wasn't directly on my clit. And still I would orgasm and then have not fun tingly clit for ages after." – Lauren A.
"It's a bit medical looking. Part of me wishes they came in fun colours. There's nothing really "cute" about it." – Rachel K.
"I do prefer, for myself, to come more naturally and with something less POWERFUL (it really is very strong) as I like my clit to be sensitive. But sometimes I just want to cum and that's the toy to do it. But rarely do I use it right against my skin anymore. And when I have to press it really hard against myself, I know I'll have a sore clit for a few days (and not be able to masturbate again) so I have to want that orgasm a lot." – Heather S.
"It's a little addictive in a way, I find that if I use it too often I'm less sensitive for using my other toys or manual stimulation or even if hubby goes down on me. Also, have to be careful not to get the inside of the white part wet when washing it." – Allison D.
"1) It's big & not cordless so that's a little inconvenient, 2) without a dimmer switch it's too intense so might not be for everyone out of box, 3) the wand head is fairly big so if you are someone who likes more precision it's unwieldy." – Joy D.
"The cord may not be long enough. For me personally, it's not always as intense as I'd like it to be." – Erica K.
(Editor's note: the cord is about 6 feet/2 metres long)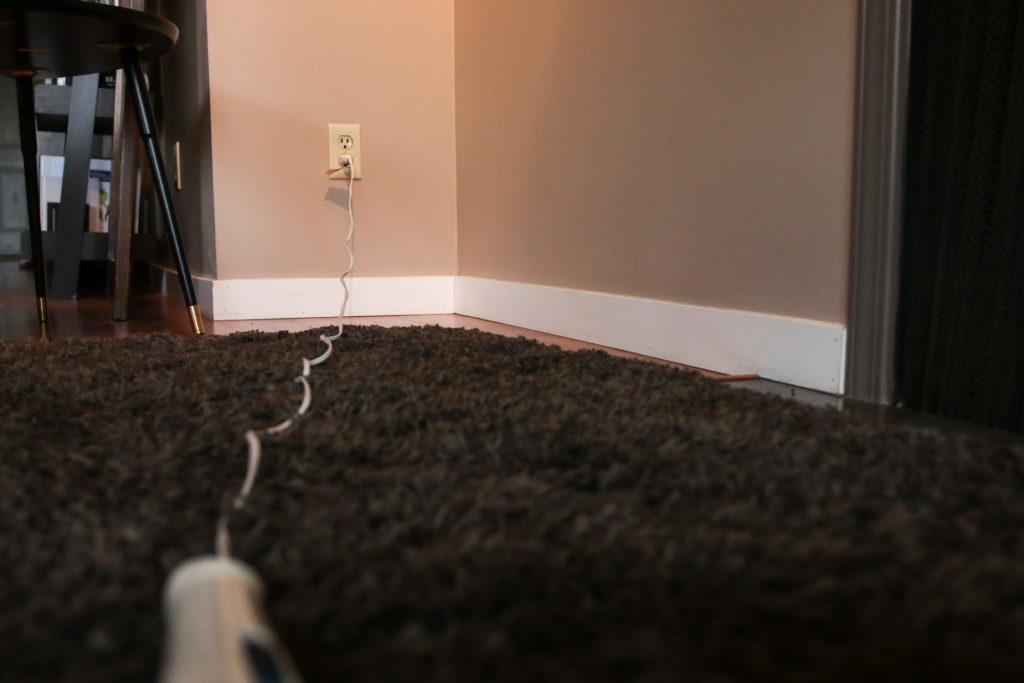 Who Would You Recommend The Magic Wand To?
"I would recommend it to any woman who likes to orgasm." – Lauren A.
"I would recommend it to anyone. I don't have orgasms from penetration so I'd especially recommend it to women who are on the same boat." – Kassidy P.
"I'd recommend this to anyone who wants to level up their pleasure and really explore their sexuality independent of a partner, but with the caveat that it's powerful and you don't want to become too dependent on it!! I use it independently of a man. I've had two rabbits and neither of them came close. I adore a man's dick so much, there could be no substitute. I think that's another reason I love the Wand–it's not like a dick!" – Annika C.
"I've already recommended it to most of my friends (with the exception of the ones who aren't very sexual/kind of prudish). I would recommend it to anyone who wants a powerful orgasm… this is a fantastic way to achieve that!" – Allison D.
"I read a lot online before purchasing this. Lots of people said it's not the best starter toy. I disagree. I think any woman or couple looking to enhance their orgasms would find great value in this toy." – Rachel K.
"I would recommend The Wand to anyone: whether you're new to vibrators or simply new to toys like the wand. Most women consider it their go-to." – Erica K.
Are There Any Specific Attachments You Would Recommend Picking Up With The Magic Wand?
"I got this dimmer switch for it which makes it way more usable for me personally. I do like it as a toy for play with a partner though!" – Joy D.
Have Any Other Sex Toys Ever Come Close For You? If So, Which Ones?
"No other sex toys comes close, no, it's a league of its own and I'm not willing to pay more money for something "close"." – Heather S.
"YES! I LOVE The Womanizer (for self pleasure). For me, it is the only thing that can (at times) surpass the Magic Wand." – Erica K.
"I can't really say any other toys come close just because the Magic Wand is so strong, but my other personal favourite toy is the Lelo Mia, it's shaped like a lipstick and is great for targeting that certain spot on the clit just right. It's also rechargeable so, again, not having to worry about batteries." – Allison D.
"The Magic Wand is the only vibrator that I've ever really liked. I've tried at least 10 others (some with dildos that rotate and have the lil bunny ears, pocket pussies, Vevo, different speeds and vibration settings, etc) but they never did it for me. They are way more expensive and usually run out of juice before I get to climax. I always had a huge plastic bag full of half used double a batteries until I found the magic wand." – Kassidy P.
So there you have it…
For some women it's too strong, for others it occasionally isn't strong enough, and for many more, it's just right.
Consider trying out the Magic Wand (click here to pick yours up today) if you feel compelled to do so.
If you enjoyed this article, I'd also recommend checking out:
– The Best Sex Toy For Men, Ever
– 5 Sex Toys That Every Couple Needs To Own (Seriously)
– The Spoiling Session: The Best Sexual Exercise For Couples
– Kill Stress, Boost Testosterone, And Have Better Sex
– How To Figure Out What Your Ideal Sex Life Looks Like
– How To Fall In Love With Masturbation
Dedicated to your success,
Jordan