If you want to give a woman the night of her life and turn her into a blissed-out puddle of mush (that will be talking to her friends about you for weeks afterward), then look no further than the sensual massage.
Everybody likes sex, but the dynamic of a sensual massage is something entirely different. Because it's all about her receiving from you.
Whether it's for an anniversary, a date, or just a Tuesday night, there is nothing else that will leave her feeling so honoured, nurtured, loved, and turned on.
Even if you've never given a sensual massage in your life, if you follow these tips you are guaranteed to leave her with an unforgettable experience.
How To Give Her An Incredible Sensual Massage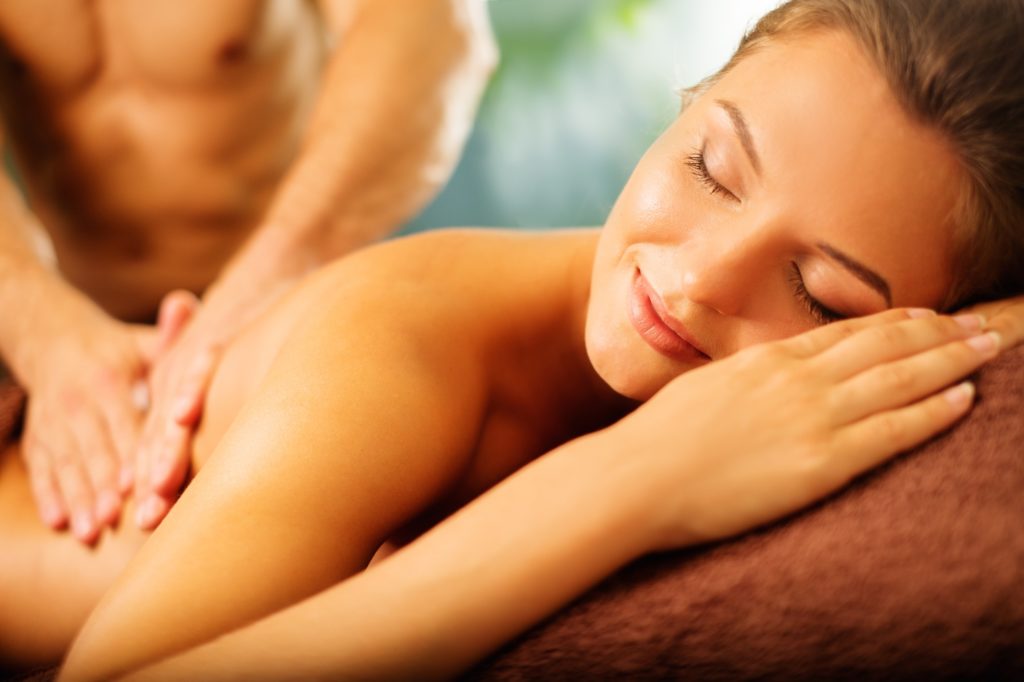 1. Set the scene
Most women tend to be sensitive to ambience and context. In order for her to be able to completely relax internally, the outer environment has to be conducive to her relaxation.
– Make sure the room is well cleaned and tidy (laundry folded and put away, clean surfaces, etc.)
– Use only candle light
– Light some gentle/mild incense
– Lay out soft blankets and pillows
– Play soft, ambient music
– Remove all distractions and make sure to turn off any beeping electronics
2. Prepare some oil
Use a natural, clean oil, since you're likely going to be using this on the outside AND the inside of her. Coconut oil is my personal favourite. Put a few tablespoons in a dish on the bedside table. Bonus points if you add a few drops of essential oil to create your own custom infusion.
Obviously, make sure the oil is comfortably warm to the touch before putting it on her skin so it doesn't startle her. If the oil is room temperature or less, rub your hands together vigorously for 5-10 seconds before putting them on her skin. You want everything to be comfortable and soothing. The last thing you want is her to dread your touch and wince, or get cold.
Do You Want To Last Longer In Bed, Get Hard On Command And Give Your Woman Multiple Orgasms?
If so, you need to watch this video I just made where I show you the sexual techniques women have been *begging* me to teach men…
You'll learn
– Strategies to last for hours in bed… without bullshit advice like "think about baseball."
– How to get hard on command… even if you're 70 years old or addicted to porn
– The three types of orgasms women have and how to create them.
And more.
If you've ever wanted to 'level up your sexual game,' this is your chance.
Check it out while it's still available.
3. Use light, smooth touch
The key word here is "sensual". Sensuality is about provoking, stimulating, and teasing the senses. You're not there to perform targeted deep tissue to resolve chronic knee pain or treat her scoliosis. Your goal is to bring every ounce of her attention to her body and where your hands contact it.
Be progressive with pressure and intensity. The more light and drawn out the movements, the more arousing the sensual massage will be. If you need to get a sense of the rhythm, pretend you're massaging her in slow-motion, or like she's asleep and you're trying not to wake her up. Side note, if she does fall asleep at any point during the massage, that's fine. Don't take it personally or be offended. It just means that she's that relaxed, which is great.
Start with long, smooth full-palm strokes up her back and down her arms. Use the swirl technique to keep her nerve endings guessing (swirling your hands around lightly in an unpredictable, non-linear way over the whole body).
You'll develop better palpation skills with practice (palpation = detecting tension and problem areas with your fingers). When you find a tight place, spend some time making repetitive, deeper movements over it. Choose one spot and then slowly sink into it with a few firm fingers or a gentle elbow. Be very careful with this technique. Because it can be insanely satisfying and tension-busting, but also intense and painful. Go very, very slow, and listen to her breathing for cues as to how she's feeling moment to moment.
4. Communicate
Check in once in a while if the pressure is okay. Some parts will be more/less sensitive than others, so she may want your touch to change accordingly. Ask her if there are any areas that are calling out to her and yearning for more attention.
This will not only exponentially boost her satisfaction, but also help you learn what works and leave you feeling more confident overall that she's having a good time.
5. Escalate
Remember that the arc of the sensual massage is a giant tease from initial feather-light touch on the back to full manual stimulation of her lady parts. So don't race. You want to build tension and anticipation. As you progress, gloss over her breasts and past her thighs but don't stop and spend ample time on her more obvious erogenous zones just yet.
Start with the head, neck, arms, hands, legs, butt, and feet. Then have her flip over and go further with her stomach, breasts, inner thighs, and finally genitals.
When you get to the vagina, work from the outside in, layer by layer. Take your time like you've never taken your time before. Lightly stroke the creases at the thighs on either side (if you didn't know, the clitoris isn't just a little bulb at the top of the vaginal opening, but is shaped more like a wishbone and runs down both sides of it). Stroke and gently tug at each labial lip. Caress everything. Take your time.
When you move to the inside, use the same philosophy of light, smooth touch and particularly focus on the G-spot, along the first few inches of the upper vaginal wall. Watch her breath and calibrate as you gradually build speed and intensity. As long as you're both having fun, rinse and repeat!
It's up to you where to go from there. Sometimes it can be a nice touch to keep sex entirely off the table. Making the whole experience just about her keeps this container of honouring and service more fully in tact, which will tend to make her feel extra special.
Above all, remember to take your time and tease. If it helps, keep a clock or your phone within view and draw the whole process out over an hour, at least.
You, My Friend, Are What Is Right With The World
If you're still reading this, congratulations on being the most amazing man a woman could ever hope to be with. You're a badass with an amazing heart.
Also, if you're interested in seeing me do a full video demonstration (yes, on a real woman) of a head-to-toe sensual massage, you can check out my video course (called Total Sexual Mastery) by clicking on this link and seeing more. (Update: you can also now see me doing a full, dedicated breast massage video in the course as well).
Dedicated to your success,
Jordan
Ps. If you enjoyed this article, you might also love reading:
– How To Give A Life-Changing Pussy Massage (aka Yoni Massage)
– Supercharge Your Sex Life (videos for men)
– How To Last Longer In Bed (9 Simple Exercises)
– The Ultimate Guide To Eating Pussy Like A God
– Becoming Multi-Orgasmic: Non-Ejaculatory Orgasms For Men
– Dirty Talk: The Ultimate Guide For Beginners (With 50+ Examples)